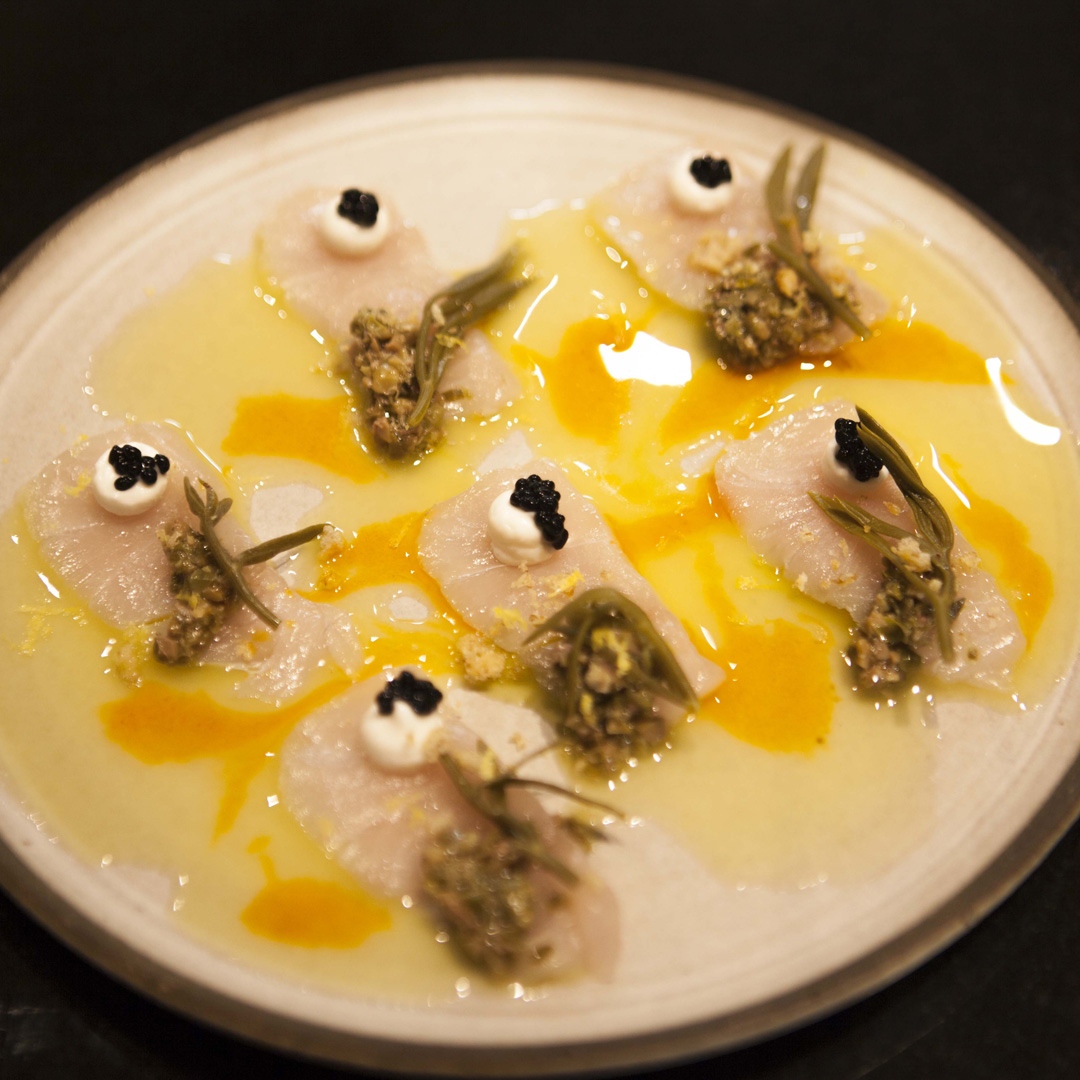 MENUS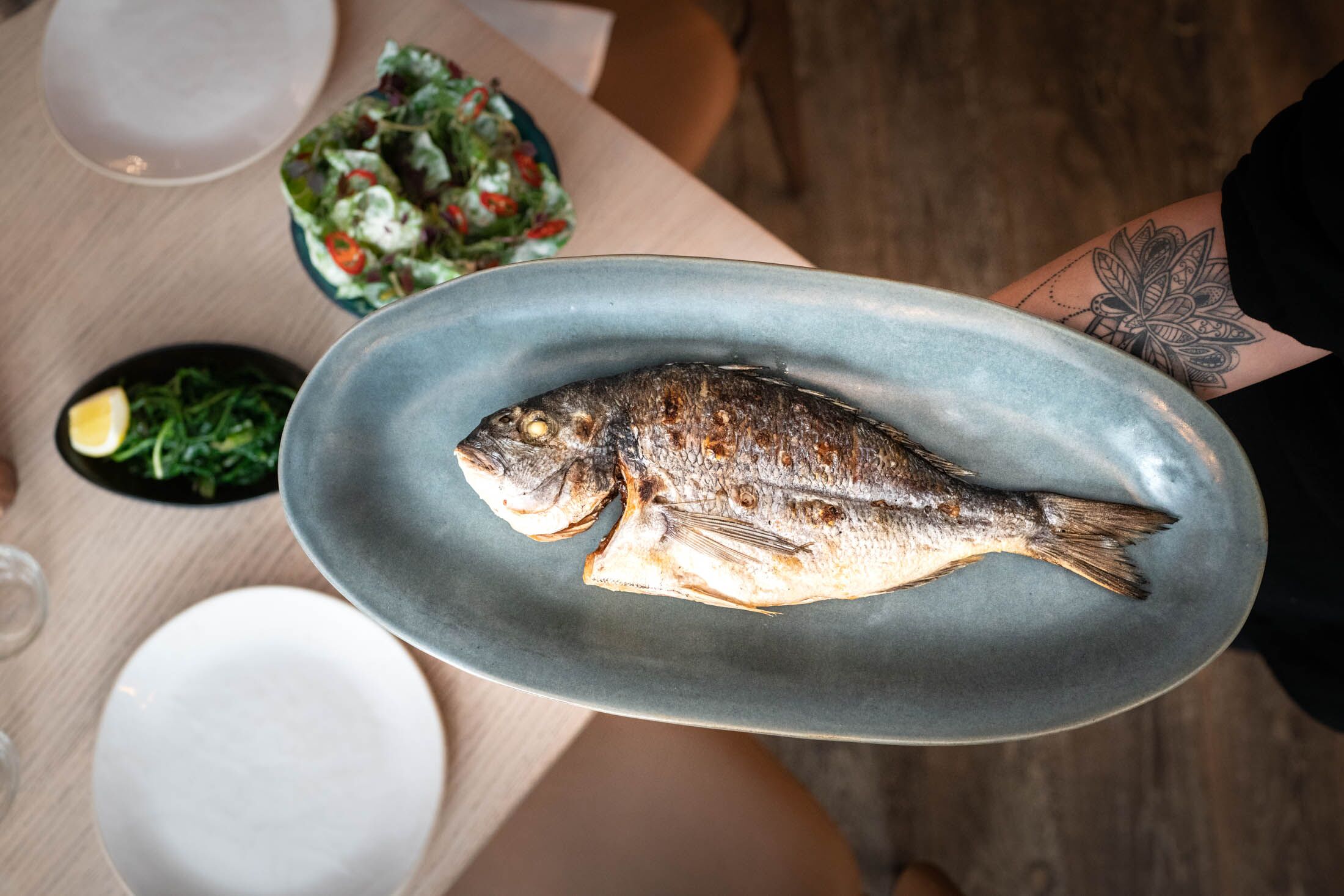 MENUS
Il menu di Meraki celebra i prodotti che lo chef Patron Athinagoras Kostakos e il team hanno ricercato in lungo e in largo fra le regioni della Grecia per trovare, come la bottarga di Mesologgi, i pomodori di Santorini e il burro di Creta.
The menu at Meraki celebrates product that Chef Patron Athinagoras Kostakos and the team have scoured the length and breadth of Greece's regions to find, such as Bottarga from Mesologgi, tomatoes from Santorini and butter from Crete.

Marinato con limone, soya, yogurt e erbe aromatiche
Marinated with lemon, soya, yogurt and aromatic herbs
Costolette grigliate, melanzane e hummus
Charcoal grilled baked aubergines and hummus
Kebab di manzo con glassa di harissa
38
Tzatziki di avocado e verdure grigliate
Beef kebab with harissa glazed
Avocado tzatziki and grilled vegetables
Pescato del giorno
Market price
Pesce alla griglia con limone e olio d'oliva
Simply grilled, with lemon and olive oil
"Horta" selvatica, olio d'oliva, timo e limone (per 2 persone)
Wild horta, thyme-lemon olive oil dressing (for 2 persons)
Aragosta orzo Giouvetsi
130
Aragosta con pasta greca (per 2 personne)
Whole lobster with orzo pasta (for 2 persons) (1,3,5,6,7,9,11,12)
Costata di manzo (400g)
65
Chimichuri, origano e verdure grigliate
Chimichuri, origan and grilled vegetables
Cipolla, maionese con ravanello, finocchio selvatico
Pickle onion, horseradish mayo and kritamo
Kumquat, uva rossa, semi di sesamo nero, salsa agli agrumi e coriandolo
Kumquat, red grapes, black sesame seeds, citrus dressing and coriander (4*,9*,11*,12*)
Uova di aringa affumicate, taramosalata, olive verdi e tapenade di capperi
Smoked herring roe, taramosalata, green olives and capers tapenade (1*,9*,11*,12*)
Tartare di Tonno (120g)
30
Soya, succo di arancia, semi di sesamo, aglio e zenzero
Soya, orange juice, sesame seeds, garlic and ginger (4*,9*,11*,12*)
Ostriche al mojito (3 pezzi)
18
FRESCO E CRUDO/FRESH AND RAW
Ricetta segreta speziata, hummus, chutney di pomodoro
Secret spiced recipe, hummus, tomato chutney (1,5,6,11*,12)
Vinaigrette all'origano selvatico, cipolla "stifado" e capperi
Wild oregano vinaigrette, onions "stifado" and capers (8*,9*,10*,11*,12*)
Formaggio Mastelo e chutney di pomodoro
Mastelo cheese and tomato chutney (1,2,3,5*,11*,12*)
Tahini, yogurt, noci pecan e cavolo nero
Tahini yogurt, pecan nuts and crispy kale (2*,3*,4,5*,9,11,12)
Pepperoncino "bougovo" e paprica
"Bougovo" chilli pepper and paprika (1.6*.9*)
Salsa di pomodoro, feta e Ouzo
Tomato sauce, feta e Ouzo (1*,3*,5,9,11*,12)
Rosti alla greca con tartufo nero
25
Patate croccanti, uova biologiche e burro Cretese
Rosti Greek Style with black truffle
Crunchy potatoes, organic eggs and Cretan butter (2,3*,6)
Insalata della domenica
19
Lattuga, maionese, aneto, zenzero e limone
Baby gem salad, mayonnaise, dill, ginger and lemon grass (2,5,6,10,11)
Insalata Greca di Mykonos
19
Cetriolo, kritamo, pomodoro, olive e feta
Cucumber, kritamo, tomato, olive and feta (1*,2*,3*,9*,11*,12*)
Pomodorini Santorini, timo, formaggio di capra, foglie di cappero
Santorini tomatoes, thyme, caper leaves and goat cheese (3*,11*)
Insalata di anguria / Watermelon salad
19
Anguria con formaggio feta e peperoncino
Watermelon with feta cheese and chili pepper
Cicoria selvatica in salsa all'olio di limone
Timo, limone, sale, pomodorini e olive d'oliva
Thyme, lemon, salt, tomato and olive oil (5,7,10*,11,12)
Con erbe essicate del Mare Egeo e crema di kopanisti
Wild aegan sea-dried herbs and kopanisti cream (2,3*,9*,11*,12*)
"Aioli" nero e "Arseniko" cheese
Black aioli and "Arseniko" cheese (3*,5*,6*,10*)
SPALMABILE/SPREADS PLATTER 22
Ceci croccanti e semi di grano saraceno tostati
Crispy chickpeas and toasted buckwheat seeds (4,5,12)
Emulsione di uova di merluzzo e caviale di aringa affumicata
Cod roe emulsion and smoked herring caviar (1,12)
Yogurt Greco, aglio, menta e zucchine
Greek yogurt, garlic, mint and courgetti (3,5,9,11)
Crema di feta piccante con peperoni florina
Spicy feta cream with florina peppers (3,5,11,12)
Cestino di pane a lievitazione naturale fatto in casa
6
Accompagnato con olio extravergine di oliva
Accompanied with extra virgin olive oil (1,2,4)
1 Glutine/Gluten
2 Noci/Nuts
3 Latticini/Dairy
4 Sesamo/Sesame
5 Aglio/Garlic
6 Uova/Eggs
7 Legumi/Lupin
8 Soya/Soya
9 Sedano/Celery
10 Semi di senape/Mustard
11 Solfiti/Sulphur
12 Allium/Allium
*     Sono removibili/ Can be removed

Mini ciambelle fritte con quattro differenti salse(Nutella, zucchero alla cannella, miele al timo e noci pecan), gelato
Small doughnuts with three different toppings and ice cream
16
Torta all'arancia con pasta fillo/Orange cake
Torta morbida all'arancia servita con crema "Namelaka" al cioccolato bianco e sorbetto al mandarino
Pastry filo with orange syrup , Namelaka white chocolate cream & mandarin sorbet
14
Biscotto morbido servito con gelato al pistacchio salato e cioccolato ascaglie
(per 2 persone)
Salted pistachio ice-cream and chocolate crumble (for 2 persons)
16
Pavlova with season fruit
Un crocante cratere di meringa con un morbido ripieno con crema di yogurt decorato con frutta di stagione
Soft baked meringue, yogurt cream served with seasonal fruits
16
Croccante rivestito di pasta fillo farcita con crema pasticcera, servito con salsa di cioccolato al latte e caramello (per 4 persone)
Traditional crispy filo pie, semolina custard, milk chocolate caramel (for 4 persons)

29
Selezioni di gelati e sorbetti/Ice-cream & sorbet Selection
We have an extensive wine list, importing many of our wines from Greek vineyards. Please speak with our sommelier for further details.
| | | Glass | Bottle |
| --- | --- | --- | --- |
| NV | Franciacorta Brut, Corte Aura, Italy | 10 | 65 |
| NV | Trento, Maximum Blanc de Blancs, Ferrari, Italy | | 70 |
| NV | Piper Heidsieck Essentiel Brut, France | | 110 |
| NV | Piper Heidsieck Blanc de Blancs Brut, France | | 135 |
| NV | Ruinart, Blanc de Blancs, France | | 210 |
| NV | Krug, Grande Cuvée, France | | 380 |
| MV | Henri Giraud, Fut de Chêne, France | | 520 |
| 2018 | Brut Cuvée Spéciale, Domaine Karanika, Macedonia, Greece | | 70 |
| 2013 | Moet Grand Vintage, France | 21 | 130 |
| 2010 | Dom Perignon, France | | 320 |
| 2008 | Rare, Piper Heidsieck | | 480 |
| 2008 | Dom Perignon, Rosé, France | | 490 |
| NV | Piper Heidsieck Rose' Sauvage Brut, France | 22 | 130 |
| MV | Henri Giraud, Dame-Jane Rosé, France | | 210 |
| NV | Ruinart, Rosé, France | | 290 |
| | | Glass | Bottle |
| --- | --- | --- | --- |
| 2018 | Passito di Pantelleria, Giardino Pantesco, Cantine Pellegrino, Italy, 50Cl | | 45 |
| 2018 | Vermentino di Gallura Passito, Sole di Surrau, Italy, 50Cl | | 50 |
| 2011 | Vinsanto, Santo Wines, Santorini, Greece 50Cl | | 60 |
| | | Glass | Bottle |
| --- | --- | --- | --- |
| NV | Trento, Maximum Blanc de Blancs, Ferrari, Italy | | 140 |
| NV | Miraval Rosé, Chateau Miraval, France | | 180 |
| NV | Piper Heidsieck Essentiel Brut, France | | 240 |
| 1998 | Rare, Piper Heidsieck, France | | 1.150 |
| | | Glass | Bottle |
| --- | --- | --- | --- |
| 2017 | Tignanello, Marchese Antinori, Italy | | 220 |
| 2002 | Solaia, Marchese Antinori, Italy | | 560 |
| 2001 | Ornellaia, Tenuta Dell'Ornellaia, Italy | | 850 |
| 2003 | Ornellaia, Tenuta Dell'Ornellaia, Italy | | 900 |
| 2003 | Sassicaia, Tenuta San Guido, Italy | | 980 |
| 2010 | Sassicaia, Tenuta San Guido, Italy | | 1.050 |
| 2015 | Sassicaia, Tenuta San Guido, Italy | | 1.150 |
| | | Glass | Bottle |
| --- | --- | --- | --- |
| 2019 | Vermentino di Gallura, Brannu, Cantine Surrau, Italy | 7 | 50 |
| 2017 | Fiano di Avellino, Ventitrefilari, Italy | | 60 |
| 2020 | Malagouzia, Volacus Wine, Tinos Island, Greece | | 60 |
| 2019 | Chardonnay, Alpha Estate, Amyndeon, Greece | | 65 |
| 2019 | Sancerre Blanc, Le Grand Champs, Domiane Foissier, France | | 65 |
| 2019 | Sauvignon Blanc Fumé, Alpha Estate, Amyndeo, Greece | | 68 |
| 2018 | Etna Bianco, Bianco di Sei, Palmento Costanzo, Italy | 14 | 70 |
| 2019 | Gewurztraminer, Campaner, Italy | | 70 |
| 2020 | Vidiano, Aspros Lagos, Douloufakis Winery, Heraklion, Crete, Greece | | 72 |
| 2018 | Chablis, Vielles Vignes, Domaine Raoul Gautherin & Fils, France | | 75 |
| 2016 | Cloudy Bay Sauvignon, Te Koko, New Zealand | | 75 |
| 2018 | Cloudy Bay Chardonnay, New Zealand | | 75 |
| 2019 | Vermentino di Gallura, Subiccu, Italy | | 80 |
| 2018 | Assyrtiko, Domaine Sigalas, Santorini Island, Greece | | 85 |
| 2018 | Sauvignon Blanc, Hofstatter Sud Tirol, Italy | | 95 |
| 2019 | Cervaro della Sala, Umbria, Italy | | 115 |
| 2018 | Chablis 1er Cru Les Fourchaumes, Samuel Billaud, France | | 125 |
| 2018 | Kavalieros Single Vineyard, Domaine Sigalas, Santorini Island, Greece | | 130 |
| 2018 | Meursault, clos du Cromin, Bourgogne, France | | 165 |
| 2014 | Chassagne-Montrachet 1er Cru Les Cailerets, Domaine, Bourgogne | | 240 |
| | | Glass | Bottle |
| --- | --- | --- | --- |
| 2019 | Colli del Limbara, Gjola, Cantine Surrau, Sardegna, Italy | 7 | 40 |
| 2020 | Miraval Rosè, Provence, France | | 70 |
| 2020 | Whispering Angel, Provence, France | | 80 |
| | | Glass | Bottle |
| --- | --- | --- | --- |
| 2016 | Isola dei Nuraghi, Surrau, Cantine Surrau, Sardegna, Italy | 7 | 40 |
| 2018 | Liatiko, Douloufakis Winery, Heraklion, Creta, Greece | | 50 |
| 2017 | Limnio, Domaine Vourvoukeli, Avdira, Tracia, Greece | | 50 |
| 2019 | Bourgogne Pinot Noir, Domaine Roux, France | | 50 |
| 2019 | Cannonau Pensamentù Sardegna, Italy | | 50 |
| 2019 | Pinot Noir, Alpha Estate, Amyndeon, Greece | | 65 |
| 2017 | Xinomavro-Negoska, Chatzivaritis Estate, Goumenissa, Greece | | 69 |
| 2018 | Etna Rosso, Nero di Sei, Palmento Costanzo, Sicilia, Italy | 15 | 75 |
| 2015 | Cabernet Sauvignon-Merlot, Kokotos Estate, Attica | | 80 |
| 2015 | La Chapelle de Meyney, Saint-Estephe, France | | 85 |
| 2016 | Amarone della Valpolicella Classico, Tommasi, Italy | | 115 |
| 2016 | Barolo, Renzo Seghesio, Piemonte, Italy | | 130 |
| 2018 | Mavrotragano, Domaine Sigalas, Santorini, Greece | | 140 |
| 2014 | Chateauneuf-du-Pape, Domaine St. Patrice, Rhône, France | | 155 |
| 2009 | Chateau Brane Cantenac, Margaux, Bordeaux, France | | 390 |
| 2015 | Chateau Cos D'Estournel, Saint Estephe, Boerdeaux, France | | 580 |
| 2015 | Charmes Chambertin Grand Cru, Domain Toupenot-Merme | | 590 |
2011 Vinsanto, Santo Wines, Santorini
12
JOHNNIE WALKER BLACK LABEL
250